Skid Steer Rental Guide

for Southwest Iowa
Selecting the perfect equipment for your construction or agricultural projects can be quite a task. Skid steers are versatile workhorses that can handle a wide range of tasks, but choosing the right one for your specific needs is essential. In this blog post, we'll guide you through the world of skid steers and how to rent the perfect one for your Southwest Iowa project, from Des Moines, to Omaha and Kansas City, and everywhere in between. Whether you're considering a standard skid steer or a mini skid steer, our goal is to help you make an informed decision, taking into account the unique requirements of the Hawkeye State and its neighboring regions.
Grasping the Basics
Before we delve into the specifics of renting a skid steer, it's crucial to understand the basics. A skid steer, whether standard or mini, is a versatile piece of construction and agricultural machinery. It features a compact, rigid frame and a lift-arm assembly that can accommodate various attachments. These attachments make skid steers highly adaptable, and that's why they are so popular to rent for various industries.
Sizing Up Your Needs
When you decide to rent a skid steer in Red Oak, Atlantic, Glenwood, or anywhere else in Southwest Iowa, the first step is to evaluate your project's requirements. Understanding your needs will help you determine the type and size of skid steer that is right for the job. Some factors to consider include:
The size of your work area
The type of materials or tasks you'll be handling
The terrain and ground conditions
The lifting capacity and reach required
Any specific attachments you might need
Standard Skid Steers
Standard skid steers are the most common choice for many construction or agricultural projects in Shenandoah, Creston, Corning and the surrounding areas. These versatile machines are known for their power and agility, making them suitable for various tasks, including:
Excavation: Standard skid steers can handle digging and trenching tasks effectively.
Material Handling: They are ideal for lifting and moving heavy materials, a perfect fit for Osceola.
Grading and Leveling: The precision of a skid steer is invaluable for creating level surfaces, whether in Clarinda or elsewhere.
Mini Skid Steers
Now, if you're working in tight spots, mini skid steers might be your best bet. These nimble machines have their own set of advantages and can be a real boon. These advantages include: 
Landscaping: Mini skid steers are perfect for tight spaces and can be a great asset for landscaping projects in Corning.
Tree and Brush Removal: When you've got to clear out brush and trees, mini skid steers are your best friend, especially in the greater Omaha area.
Indoor Projects: Their compact design makes them an excellent choice for indoor projects where space is limited in places like Kansas City.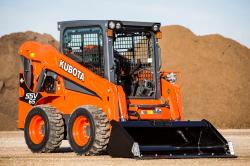 Renting a Skid Steer
Now that you've determined your project's needs and understood the differences between standard and mini skid steers, it's time to rent the right one. Here are some tips to ensure a successful rental experience:
Choose a Reputable Rental Company: Opt for Corning Rental, the largest full line construction equipment rental facility in Southwest Iowa and beyond, reaching cities like Des Moines, Omaha, and as far as Kansas City. We offer well-maintained skid steers and exemplary customer service. Seek out our online reviews and recommendations to ensure a trusted partner for your project.
Specify Your Needs: Clearly communicate your project's requirements when contacting the rental company. This includes the type of skid steer, necessary attachments, and the duration of the rental.
Ask About Maintenance: Inquire about the maintenance and service history of the skid steer. Well-maintained equipment minimizes the risk of breakdowns during your project.
Safety First: Ensure that the rental company provides proper training and safety guidelines for operating the skid steer. Prioritize safety regardless of your location in Southwest Iowa, Des Moines, Omaha, Kansas City, or anywhere in between.
Budget Considerations: Compare rental rates from different companies and choose the one that offers the best value for your specific needs. Factor in any additional costs for attachments and delivery.
Renting a skid steer, whether standard or mini, can significantly enhance the efficiency and productivity of your construction or agricultural project in Southwest Iowa and its neighboring regions. By assessing your needs and partnering with Corning Rental, the largest full line construction equipment rental facility in the area, you'll embark on a successful and hassle-free rental experience.
At Corning Rental, we are dedicated to assisting you in making the right choice when it comes to renting skid steers and other equipment. Our expert team is ready to address any questions and concerns you may have. Contact us today to discuss your project, or rent from us online if you already know what you need and let us provide you with the perfect skid steer for the job. Your project's success is our priority, and we're here to support you every step of the way.
Corning Rental is your trusted partner in progress, making your projects more manageable one rental at a time from one of our three Iowa locations in Corning, Red Oak, and Shenandoah, Iowa.